Kaju Barfi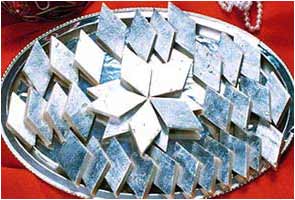 Ingredients:

2 cups cashewnuts soaked in water for 2 hours
1 cup powdered sugar
1 tbsp. Ghee
1/2 tsp. cardamom powder
Silver Varak for decoration

Instructions:

1. Drain and blend the cashew nuts to a fine paste. 2. Use as little water as possible when blending.
3. In a heavy saucepan put sugar and paste. Cook on a medium heat.
4. Keep on stirring continuously till a soft lump is formed.
5. Add ghee and cardamom powder and mix well. 6. 6. Spread on a clean greased work surface.
7. Roll lightly with a rolling pin, to a desired
thickness.
8. Apply the silver varak. Cool and cut into diamond shaped burfis.




Recipe, Ganesh festival recipe, sweets, Food,Ganeshotsav Sweet recipe, sweets recipe,modak, gulab jamun,Rasmalai, Kheerapat,Pista barfi, kaju barfi,Chocolate barfi,Kala jamun, pedha, badami halawa, Ladoo